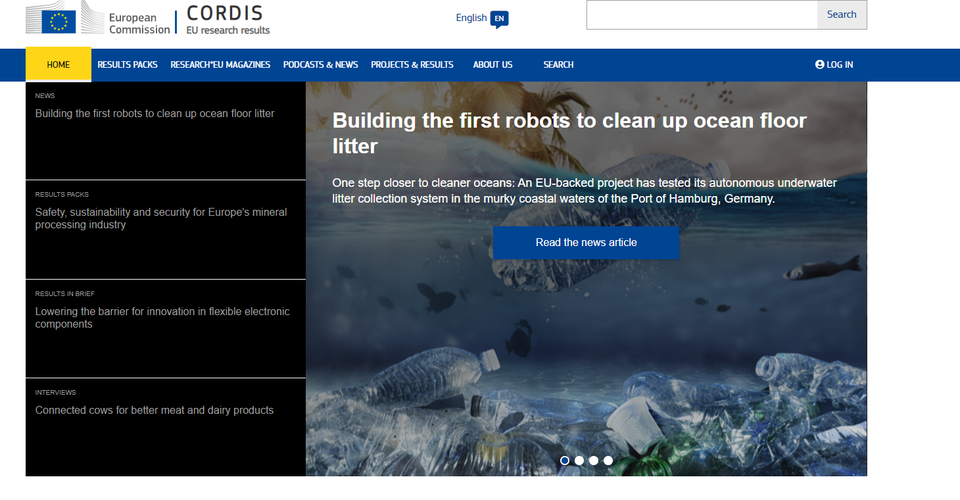 The SeaClear project has been put on the front page of Cordis to showcase the most impressive results of the European research! The article entitled 'Building the first robots to clean up ocean floor litter' highlights the issues of marine litter. The majority of this litter lies on the sea floor. The article describes the SeaClear project, whose participants are focused on finding a solution for this problem.
The SeaClear project is funded by Horizon 2020, a scientific-innovation (RIA) scheme of funding with the aim of developing an efficient, cost-effective and innovative solution for finding, mapping and collecting marine litter, 94% of which is estimated to lie on the sea floor. The proposed solution is a team of autonomous robots that can identify, map and collect the sea floor litter. The total budget of the SeaClear project amounts to somewhat less than HRK 38 million, and it is 100% funded by the European Union's programme HORIZON 2020 – RIA, through which more than HRK 4.5 million have been ensured for the University of Dubrovnik. Project manager at UNIDU is Associate Professor Ivana Palunko, PhD, Head of the Laboratory for Intelligent Autonomous Systems (LARIAT) from the Department of Electrical Engineering and Computing, whose research team contributes to the technological development in in the area of robotics, artificial intelligence and autonomous management. Associate Professor Marijana Pećarević, PhD from the Department of Applied Ecology also participates in this project to ensure that the robot system to be developed does not endanger the plant and animal life in the marine environment in any way. Associate Professor Nebojša Stojčić, PhD from the Department of Economics and Business is also part of the project. He participates in the development of the feasibility study to additionally review the economic cost-effectiveness of such a system.
CORDIS is an information service and it is the European Commission's primary source where the results from the projects funded by the EU's framework programmes for research and innovation (FP1 to Horizon 2020) get published. CORDIS has a rich and structured public repository with all project information held by the European Commission, such as project factsheets, participants, reports, deliverables and links to open-access publications. CORDIS is managed by the Publications Office of the European Union on behalf of the European Commission's, Executive Agencies and Joint Undertakings, supported by contractors specialised for editorial, data and technical services.