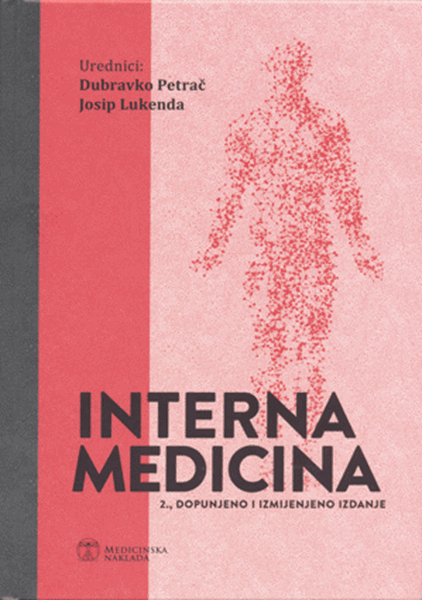 The course book Internal Medicine has come out of the press. It has been published in the edition of Medicinska naklada and the University of Dubrovnik. Associate Professor Dubravko Petrač, PhD from the University of Zagreb and Assistant Professor Josip Lukenda from the University of Dubrovnik are the book's authors. This course book is primarily intended for the graduate study of Clinical Nursing but also for the undergraduate study of Nursing.
This is the second edition of the course book Internal Medicine. It was firstly published as a course book of the University of Zagreb in 2009, edited by Medicinska naklada. During the last ten years, numerous clinical trials have been made in all specialties of internal medicine, which has shed an additional light to the etymology and pathophysiology and advance diagnostics and therapy for internal diseases. In accordance with that, a review of the previous text of this course book was made, mostly with respect to diagnostics and therapy, while the basics of anatomy, medical history and clinical examination have not changed. The text about hear failures, heart valve diseases, lung diseases and respiratory tract diseases, gut diseases and allergy diseases has been completely changed. An additional chapter on non-classified cardiomyopathies and diseases of the immune system has been added.
As in its first edition, the course book is divided into eight parts, of which each contains an explanation about the diseases connected with separate organic and functional units. Individual diseases are presented in the following order: definition, etymology, pathogenesis and clinical picture. The disease description ends with the diagnostic procedure, treatment and prognosis. Literature is listed at the end of each part, which enables a wider view of the presented unit.
This course book is mainly intended for the students of dental medicine and medicine as well as for the students of health polytechnics whose undergraduate classes include the course in Internal Medicine. As an updated and concise source of knowledge, this course book may also be of use to junior doctors of internal medicine as well as doctors with other specialties.