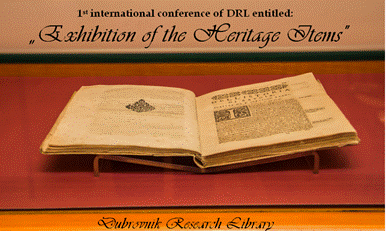 The Department of Arts and Restoration and the Dubrovnik Libraries cooperate in the organisation of the 1st International conference of the Dubrovnik Scientific Library 'Heritage Exhibition'. This conference will gather experts from all around the world to share experiences and present new insights in the protection of cultural goods. Based on expert elaborations, they will adopt, confirm and advance the current knowledge in exhibiting cultural goods.
The conference will include expert lectures, papers, posters and a panel discussion. The aim of the conference is to review best practices in sustainable preventive conservation and the way how to treat risk management in order to preserve collections before, during and after exhibiting. Lectures and presentations are intended for curators, exhibition designers, prepares, conservators, restaurateurs, librarians, archivists, security staff and all those included in the planning, designing and setting up exhibitions in cultural institutions as well as to the wider public. The conference will be held in English.

The topics that the conference will cover are as follows:
• evaluation of exhibition organisation (equipment, people, premises, ordinances, codes of practice, etc.),
• inclusion of preservation and safety in the exhibition process,
• exchange of interactive experiences,
• conservation-restauration for exhibitions,
• experience with travelling exhibitions,
• sustainable exhibition design.

Invited speakers:
Rasha A. Shaheen, the Egyptian Museum, Cairo, Egypt
Jeanne Drewes, the Library of Congress, the United States of America
Iva Gobić-Vitolović, State Archive in Rijeka, Croatia
Valentina Ljubic Tobisch, freelance conservator and consultant, Austria
Matija Strlić, UCL Institute for Sustainable Heritage, the United Kingdom
Roger S. Wieck, Morgan Library & Museum, New York, the United States of America
Posters can be submitted until 16 May. More information about the conference is available in the documents attached.
https://znanstvena.dkd.hr/novosti/1st-international-conference-of-dubrovnik-research-library-4
https://www.unidu.hr/wp-content/uploads/2022/05/Call-for-POSTERS-1st-International-Conference-of-Dubrovnik-Research-Library.pdf